About our School
Mangonui School opened in 1858 on this site. Part of the original school is still in use today as the school library. It has a lovely view past neighbouring historic St. Andrews church and over the upper reaches of Mangonui Harbour.
Mangonui School is a great school of which the community is very proud. Since the introduction of "Tomorrow's Schools", Mangonui School has managed to utilise available funding to enhance and develop the school grounds and environment. The school is situated in one of Mangonui's prime real estate positions, sitting in a bush setting with beautiful harbour views.
The school has a swimming pool, two tennis courts, field area, large new playground, newly concreted court area, a seating area which has been designed to include a stage. The bush area is also available as a play area for the children. We also have a wonderful sandpit which has been shaded.
Doubtless Bay is a fast growing area. The charm and peace of this busy fishing port obviously hold a great attraction for those weary of city life.
The children are delightful. They come from a wide range of backgrounds.
The community is very supportive but at the same time expects a high standard from its school. The socioeconomic range within the community is very wide-ranging, from those on benefits through to accountants and small business owners.
There are at present seven classrooms.The teaching staff are all experienced and very competent. They are dedicated to the children and the provision of quality education. They are forward thinkers who are always keen to find out about new trends in education and incorporate them in their programmes.
Learning Environment
We have created a learning environment which allows every child to reach their potential:
safe and caring environment
zero tolerance for bullying
commitment to small class sizes
variety of playing fields including netball court
an extensive multi-media library of the latest titles – all computer cataloged
interactive boards in all classrooms
stimulating and attractive classrooms
changing display of children's artwork
outdoor assembly area
shade play areas and sun shades
integration of ICT using tablets, netbooks and chromebooks
swimming pool
sandpit
adventure playground
regenerating native bush area – students learn about conservation values
design features by local artists
regular 'Duffy' assemblies and theatre where celebrities and sporting personalities visit to encourage good reading habits
Modern Learning – 21st Century – Classroom programmes are based around teaching our students to learn. The emphasis is on the students been in the drivers seat of their learning.
History
Small Beginnings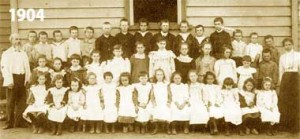 School photo 1904 : Alfred Ballance (standing at left) was Headmaster from 1881 to 1912
The original Mangonui school was established with approx. 12 students in January 1858 – sited in what is now the St. Andrews Church building
In 1870, the school shifted to a building in Tasman Street (still in existence), which the Mangonui County Council met in after hours
The school relocated to its present site in Mould Street in 1884. That building is today the school library. In 1984 the street was renamed Colonel Mould Drive
A new classroom was urgently needed by 1949, and was duly opened in December 1950
In 1972, the school was upgraded to three teacher status. A 1981 refurbishment included a resource room, admin. room, sick bay and new toilet block
Classrooms and facilities continued to be added over the years including a swimming pool, and artworks by local artisans
The new stage area to share learning was opened in 2012
2013 we are upgrading our senior playground and several of our classrooms.