Bike Day
Guess what? On Friday at Mangonui school there was a bike day. This is because we needed to show Constable Rob that we could ride our bikes safely. Some kids brought their bikes to school, I did too. I felt nervous and excited at the same time.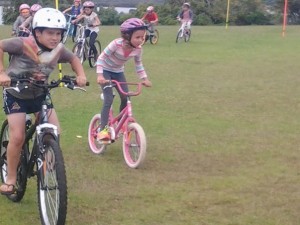 Constable Rob set up a course on the top court with cones. Firstly we grabbed our bikes which were lying on the grass. Not long after we walked our bikes onto the court. As soon as we had finished listening to Constable Rob, we lined up in a HUGE LINE!!!
We had to wait and wait and wait!! Finally it was my turn. I hopped on my bike and through the cones I rode. I succeeded. When it was my second turn I succeed again. Oh no on my third turn I was hit over by another bike. It was alright. It just gave a little bruise but a big fright .Soon I got back up and did the course again.
After that we moved onto the field and had races. I raced in two different races. In my first race I came 4th and in my second race I came 1st! I was so proud of myself. Me and my bike were worn out for a day.
We went back to class and listened to Mrs A. I felt proud because I participated in the bike day event. I had a few bumps and bruises but that didn't stop me from riding.
Brooke