Schools in New Zealand are expected to identify what the key Values of the school are. Values are deeply held beliefs about what is important or desirable. They are expressed through the ways in which people act and think.
Every decision relating to the curriculum and every interaction that takes place in a school reflects the values of the individuals involved and the collective values of the institution.
Schools are also expected to incorporate the Key Competencies (capabilities for living and lifelong learning) into the school curriculum so students have plenty of opportunities to practice them. They are: Thinking, Using Language symbols and Texts, Managing Self, Relating to Others and Participating and Contributing.
What we have noticed is that our students get very confused over Values and Key Competencies so we have decided to try a new approach and combine both under the heading 'Kind and Caring Kaitiaki'.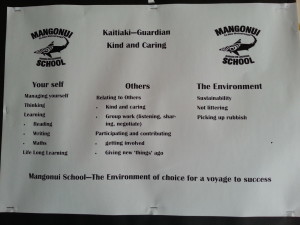 Kaitiaki – Guardian
Kind and Caring
Yourself     – Managing yourself, Thinking, Life Long Learning
Others – Relating to Others, Participating and Contributing
The Environment – Sustainability
What are your thoughts. Leave a comment or get touch with The Principal at school.