Junior Master Chef Day
Room 1, 2, 3 & 4 had a Master Chef day. We all made something different in the morning and then at lunchtime we brought all the food together to taste all the wonderful creations.
We made scones. We followed a lemonade scone recipe from 'Food in a Minute':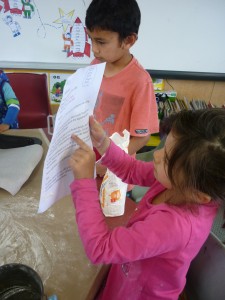 Ingredients
4 cups self-raising flour, sifted

pinch of salt

300 ml cream

300 ml lemonade or soda water
Method
1. Preheat oven to 220°C and line a baking tray with baking paper.
2. Sift flour and salt into a bowl. Make a well. Pour the cream and lemonade or soda water into the dry ingredients and mix together to form a soft dough.
3. Turn the dough out onto a well-floured bench, dust lightly with flour and gently roll out into a rectangle. Cut into approximately 12 pieces and lift each onto the baking tray.
4. Bake in a preheated oven for 10-12 minutes or until golden brown. Remove and cool inside a clean tea towel to help keep their freshness.
Serve with butter or your favourite jam and whipped cream.
We had some parents come in to help us and we really enjoyed working in small groups to make our own batch of scones. One group decided to add sultanas to their mixture to make sultana scones.
Once they were cooked we split them in half and put butter and jam on them.
We all got a taste before we shared them with the rest of the junior school!
Thanks to all the parents who came to help out on the day.
We all had a fantastic time!
Later in the week we did some writing about our Master Chef day.
Here are some below: